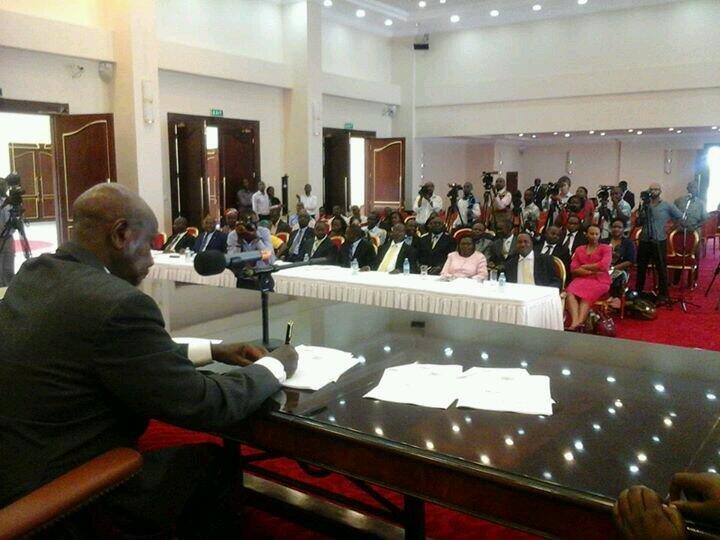 Ungandan President Yoweri Museveni signing Anti-Homosexuality Bill into Law
Not something I wish to be writing about, but as of today, President Yoweri Museveni has signed the Anti-Homosexuality Bill into law and in a vile statement, blamed it on Western groups 'for showing us how you kiss'.
The law states imprisonment for 'repeat offenders' of homosexuality and it will also be illegal to 'promote' homosexuality and to those who fail to report homosexuals to the authorities, they will also risk arrest or jail.
Speaking to lawmakers, journalist and Ugandan citizens, Museveni has blamed having to sign the bill on western countries.
'It is our view that we punish exhibitionism, recruiters and homosexual prostitutes,' he said.
'We don't impose ourselves on Western culture. What is wrong with this then? Why must you show us how you kiss?'
'We are sick of homosexuals exhibiting themselves. All Africans are flabbergasted by this exhibition of sexual conduct.'
He added: 'I do not understand why a man can't be attracted to a beautiful woman and instead be attracted to a fellow man.'
David Bahati is responsible for the legislation and mentioned to journalists that '
today is a victory for the people of Uganda and future of this country.', while Museveni has described homosexuals as 'sick' people who need help.
It seems he has been influenced by some strange and abnormal report from 'scientists' saying homosexuality is abnormal
behaviour. Does that mean if I give him a report stating otherwise he'll drop the bill? Who knew stupidity can influence law making.
Museveni then said he would seek advice from US scientists before making any decision in a week of unconfirmed reports that he had already signed it and misleading statements from the government. Former Archbishop Demond Tutu
Human rights icon and former Archbishop Desmond Tutu has shared his opinions and has condemned the anti-gay law.
He said:
'When President Museveni and I spoke last month, he gave his word that he would not let the anti-homosexuality bill become law in Uganda. I was therefore very disheartened to hear last week that President Museveni was reconsidering his position.
'We must be entirely clear about this: the history of people is littered with attempts to legislate against love or marriage across class, caste, and race. But there is no scientific basis or genetic rationale for love. There is only the grace of God.
'There is no scientific justification for prejudice and discrimination, ever. And nor is there any moral justification. Nazi Germany and apartheid South Africa, among others, attest to these facts.'